Prize Wheel Shipping to U.S. and Canada
Prize Wheel and Prize Drop games ship from our warehouse in Georgia within two business days. All rush order Prize Wheels and Prize Drop games will ship on or before the next business day.

In order to receive rush service, you must add RUSH SERVICE to your order. Also, keep in mind that if you choose an expedited shipping service (e.g. Overnight or 2 Day) you will need to add the RUSH SERVICE to allow it to ship on or before the next business day. Rush service is only available for the Prize Wheel and Prize Drop. Rush service is not available on carrying cases, treasure chest items, seasonal promos and other games.

The following map details transit times for shipments via Ground service from our warehouse. These transit times apply to the Prize Wheels and Prize Drop. Other products found on our site may be shipped from alternate locations, resulting in additional transit time.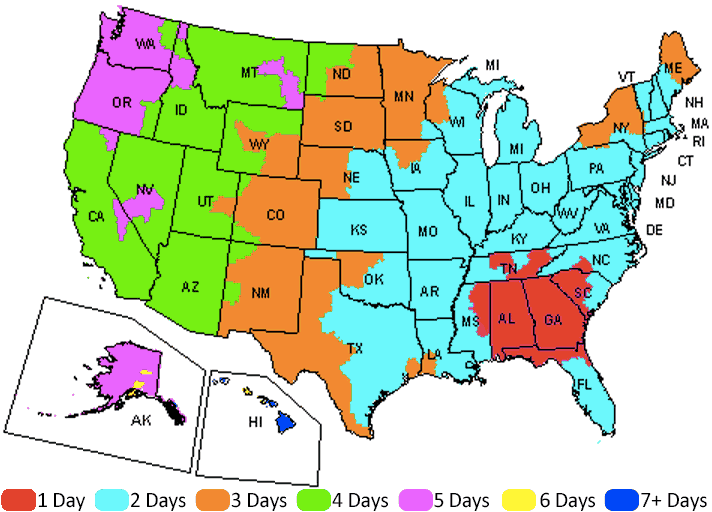 Shipping to Canada is available with transit times ranging from 3-7 business days with Ground (Standard) shipping. If necessary, these shipments can be billed directly to your FedEx or UPS account. The recipient of these shipments is responsible for all duties. Additionally, you may use your broker of choice for clearance of these packages. Please include this information in the "Additional Information" box that appears during checkout. Brokerage fees will appear during checkout if your order is shipping to Canada via Ground (Standard) service. If your order is less than $20, no brokerage fee is charged. The following fees will be charged on the order total (before shipping):
$20.00 to $40.00: $7.00 brokerage fee
$40.01 to $100.00: $19.45 brokerage fee
$100.01 to $200.00: $29.00 brokerage fee
$200.01 to $350.00: $45.60 brokerage fee
$350.01 to $500.00: $51.20 brokerage fee

$500.00 or more: $58.20

brokerage fee
Note: No additional brokerage fees are required on expedited (Overnight, 2-Day and 3-Day) shipments.
Overnight, 2 Day and 3 Day service is also available. You may choose one of these shipping methods on the "choose shipping method" page during checkout. These expedited shipping methods are not available on carrying cases, treasure chest items and other select items found on PrizeWheel.com.

FedEx Ground may be substituted for UPS Ground service. Additionally, ground service may be substituted for express shipping methods if transit time is faster by ground.

We are not responsible for delays that may occur in transit. Any delays due to weather-related issues from the shipper will not receive a shipping credit.

Every attempt is made to list accurate production times. However, due to circumstances beyond our control, an item may be listed that is no longer available. If this occurs, you will be contacted by email or phone as soon as possible.

Please Note: Shipping to a residential address may result in an extra day added to the delivery time or delivery after normal business hours.